Online Dating Tips for Women Over 50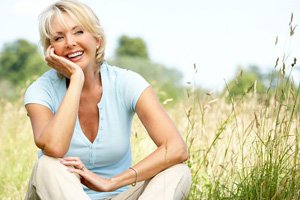 Online dating can be a challenge for women over 50.
Yet, on the other hand, it can also present a multitude of opportunities to meet someone new, someone to love them; opportunities which they may never had had when they were younger.
Confused? Well don't be... we're going to explain some of the pros and cons of online dating for older women - and, as you'd probably expect, there are almost certainly going to be more pros!
It's fair to say that most older women now looking to date online grew up in an age when there was no internet; social attitudes to dating, marriage and staying with your partner or husband for life, through the good times and bad, were also radically different.
You might ask what this reference to the internet and social mores has got to do with modern online dating for women over 50. Well, certainly, one of the answers is that older women have to learn how best to look for a male partner and date again after, perhaps, many years of being with the same man. Or maybe they have been living alone for some time after their husband or partner has passed away or they have divorced or recently left a long term relationship - and so need to start afresh.
In any of the aforementioned cases, when it comes to the time to start dating again, many older women can be slightly apprehensive so it's always wise to take some good advice from friends or others who have used online dating sites previously.
Right... if you are ready to get you started in your quest for a new man in your life, here are some great online dating tips for women over 50:
Do some research about the most popular online sites specializing in dating for women over 50; of course, you can join any site you wish but most older women find that it's easier and more effective to look for a new beau on a site dedicated to their needs
Discreetly ask around amongst your friends and colleagues and see which dating sites for older women they recommend or may have used in the past; find out what they liked or disliked about such sites
Find a senior dating review site which compares the various over 50 dating sites for older women and see which site has the most active members, can demonstrate a record of success and offers the most realistic/reasonable fees, terms and conditions to join
Try out a couple of the sites you feel may be suitable and see how easy they are to join and also whether they appear to offer the types of new partner you are looking for; try to establish if most of the profiles of other members are genuine or otherwise
There are a variety of ways in which online dating sites for women over 50 try find your perfect match - some take away the decision making from you so, instead of you filling in your personal details and those of your ideal mate's requirements and the undertaking a search, an alternative way is for some sites to propose potential dates or partners to you based on a series of algorithms
Perhaps most important of all, check out that the online dating site(s) you decide to enroll with offers a high level of security both in terms of your personal data but also in not allowing other members to contact you on an unsolicited basis; additionally sites with verified members are more sought after
For some older women looking to date again after an absence of a number years, using an over 50 dating site can initially be daunting - yet once the selection of s suitable site is made and enrollment completed, it's usually all quite straightforward and possible to quickly start to search for the new man of your dreams....